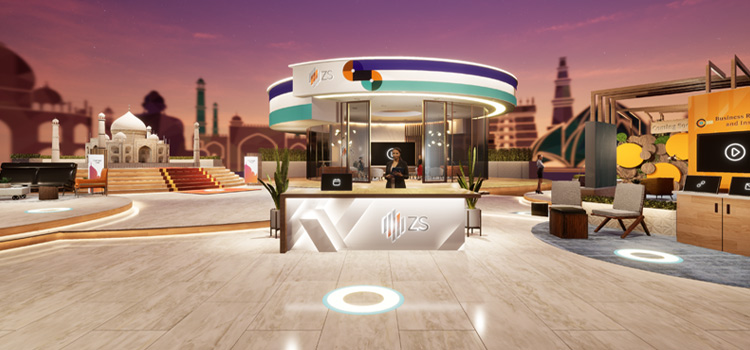 Case Study – ZS Associates
ZS Associates is a global firm that provides services in industries ranging from healthcare to technology to finances. They utilize cutting-edge analytics, tech, and strategy to assist clients with everything from early discovery to commercialization. Traditionally, new partners, clients, and staff would be invited to their offices to meet the ZS team members they'd be working with. Due to COVID-19, ZS was no longer able to bring their personnel together. This was especially hard for the team in India, who enjoyed introducing potential clients to their talented staff as well as immersing them into their local culture.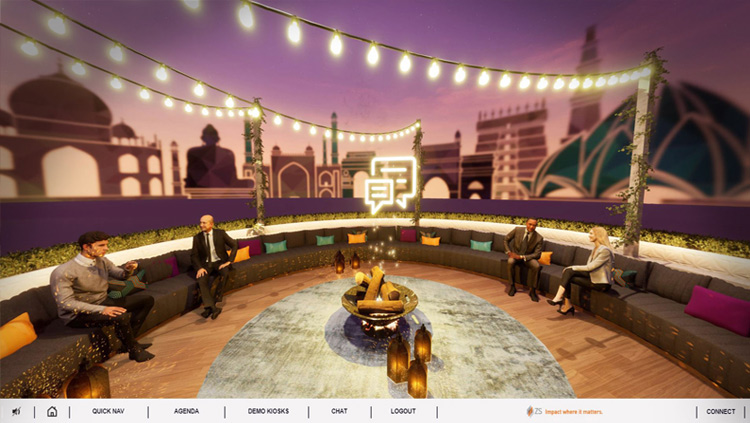 ZS Associates needed a way to meet with their clients virtually that captured the energy and culture symbolic of their global brand. Plego Technologies and Pulse Studio presented the EngageVE virtual event platform as a possible solution. The ZS team was excited to build a custom environment that looked and felt exactly how they wanted, while integrating familiar meeting tools they used internally. This partnership resulted in an engaging virtual hub that could be used as an online meeting room for prospective clients as well as a place to host internal events. The architecture, layout, and functionality of this virtual hub was fully customized for ZS Associates and the specific needs of their team.
Security was an important factor to choosing a virtual platform. By gating the experience with a login, we gave ZS the ability to keep this a private virtual company hub. We built in the ability to add and remove attendees so that the correct invitees were in the platform at the right times, but their team always had access to the virtual meeting space.
Check out the images below to see how we captured the spirit of their office in India: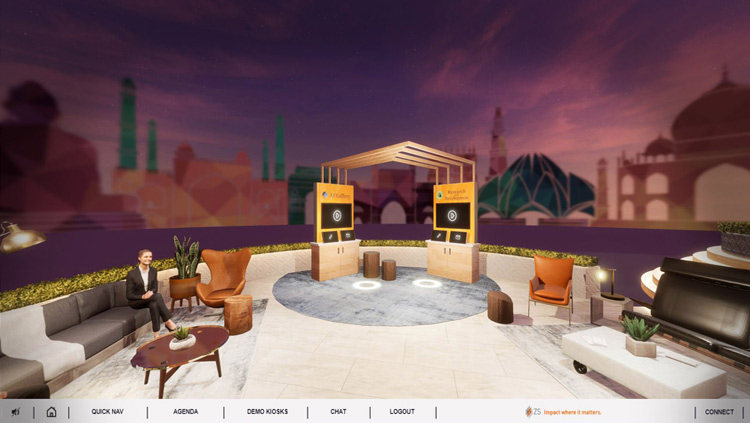 One of the things their team loved doing was taking clients to visit local landmarks, like the Taj Mahal. Since their guests were not able to visit in person, the virtual hub includes a scale model that links to an immersive online tour of the Taj Mahal.
ZS Associates also wanted a way for visitors to get to know their team members across the digital divide. This opportunity resulted in the development of new functionality for the EngageVE platform, showcased through the Team Wall. This interactive element gives visitors the ability to learn about each team member one by one, and even leave digital messages on each person's profile.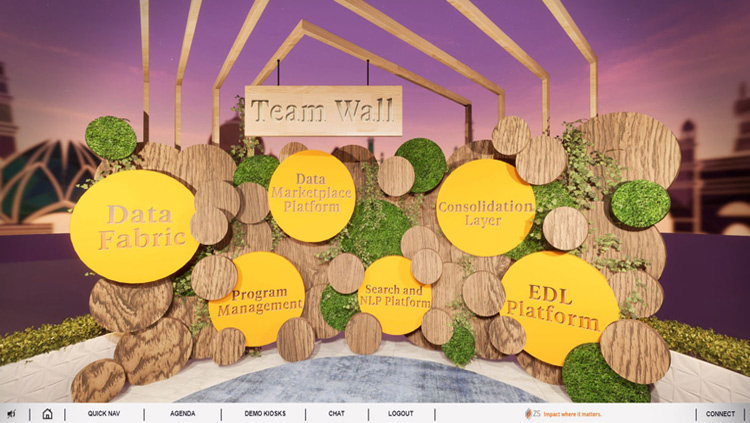 The EngageVE virtual event platform gave ZS's clients something unique to remember and connected them with team members across the world. If you need help creating a virtual meeting hub or showroom, please email us at info@engageve.com or call 630-442-7928