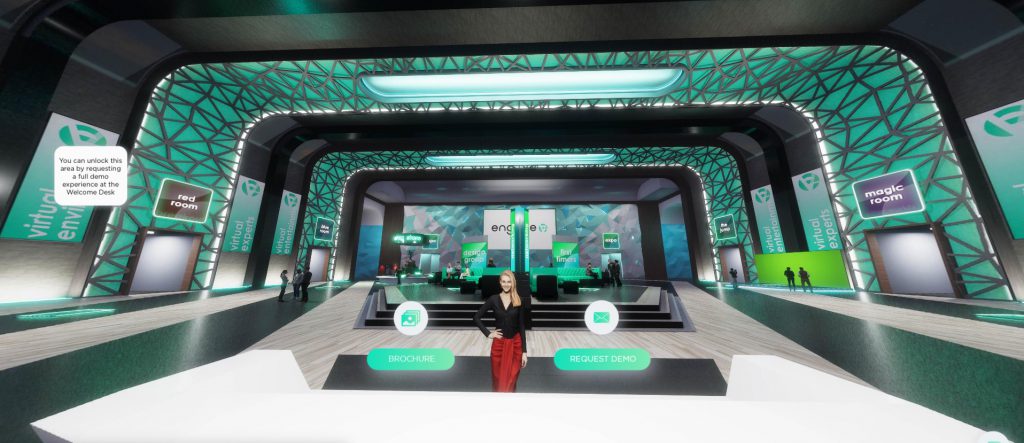 Virtual Venue Spotlight – Introducing the Engage Center
Welcome to the Engage Center, the flagship venue of the EngageVE platform. Robust and fully customizable, the Engage Center is the solution to the struggles of developing captivating virtual events. This virtual venue is a blank slate, scalable to events of any size and ready to support the unique needs of your project.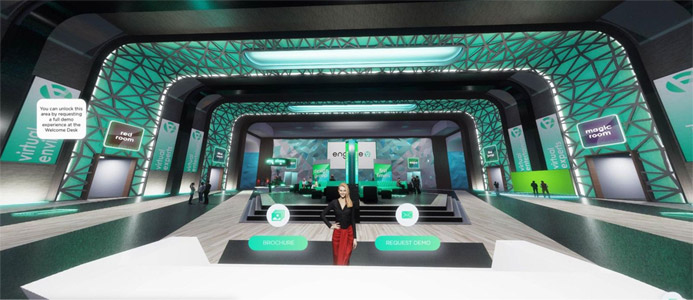 Trade Shows and Exhibitions
Looking to showcase your newest products and services to thousands of industry professionals?
The spacious Exhibit Hall is just the place to host your next trade show. Build a bright, engaging array of business solutions and virtual product demos with our flexible kiosk templates.
Connect with your partners and offer sponsored booths in tiers from Bronze, Silver, Gold, and Diamond. Each booth is fully customizable for your brand and content.
Take advantage of this virtual space with interactive 3D product demonstrations. Let your attendees see your products up close with 3D models and 3D scanned replicas. Whether you are selling the latest smartwatch or your new line of construction machinery, our space will adapt to showcase the very best you have to offer.
Don't worry about attendees getting lost, either. Our quick navigation and exhibitor search tools will get your visitors where they need to go, fast.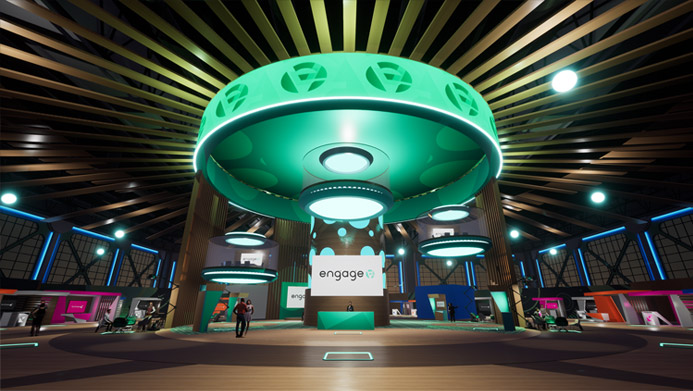 Networking
Looking to create an exclusive VIP networking experience? Invite your special guests to an intimate cocktail hour at the Plaza Bar, complete with livestreamed mixology lessons. The Engage Center is equipped with networking spaces to match the mood of any event, day or night. Spark conversation with a premium virtual environment and keep attendees talking long after the night is over with virtual business card exchanges.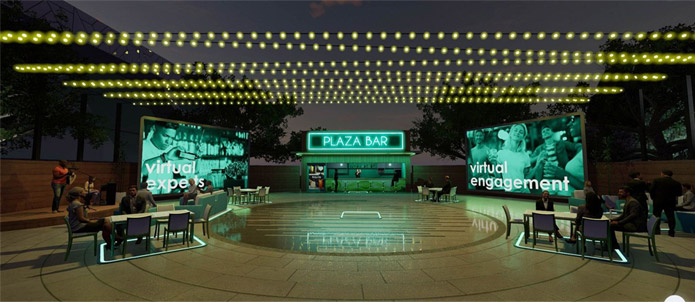 Holidays and Special Events
Deck the halls for your next holiday event and celebrate in a space decorated in any theme you can imagine. Host giveaways, play games, and win prizes for hitting the top of the leaderboards.
Kick back and relax after hours in the Speakeasy. Include special moments like fireworks shows, lantern releases, and exclusive performances to make the party one to remember.
Staff Training
Everyone needs a refresher sometimes, and the Engage Center is ready to become your training hub. Teach your sales team about new product features with video content hosted in the theaters, and send them to the Exhibit Hall to practice their pitch with 3D product models. Step up your onboarding process and send your new hires to a virtual experience equipped with training videos and integrated online quizzes. At the end of the day, celebrate your team's new knowledge and treat them to a special performance in the Outdoor Theater.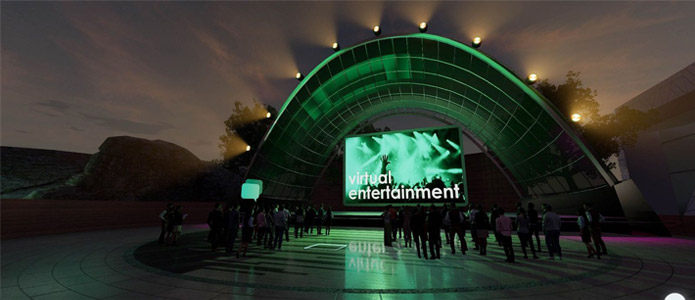 Conferences
Gather your best and brightest for a virtual conference experience like no other. Offer livestreamed and on-demand video content in the Theater and invite viewers to discuss their thoughts in the Breakout Rooms afterwards. Host brainstorming sessions or mentorship circles to foster new ideas and connections with attendees across the world. Push the state of your industry forwards at the Engage Center.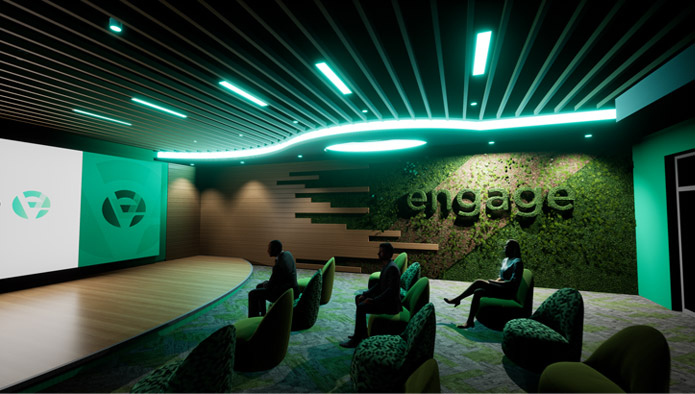 Virtual Corporate Headquarters
If you're in need of a solution that can grow with your company over time, consider developing a virtual headquarters with us. Bring your team together for holidays, training, conferences, and more. Rooms can be opened and closed, and new content added to reflect updates and developments whenever you need it.
Learn More
Collaborate with the EngageVE team to build the perfect virtual event for you, your team, and your clients. We'll help you transform the Engage Center template into the backdrop for your next hit event, perfectly designed to embody your brand and meet your needs.
Explore the Engage Center demo below and contact us when you're ready to make it your own.