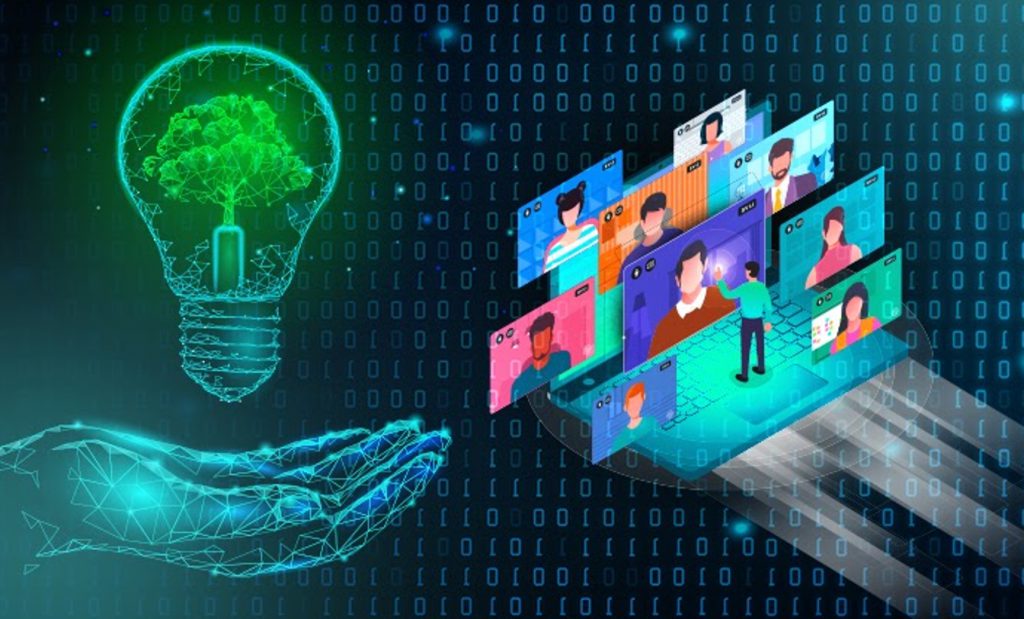 Go Green With Your Next Event: The Environmental Benefits of Virtual Events in 2021
There are many benefits of virtual events. One that is important to eco-conscious companies is reducing carbon dioxide (CO2) emissions. CO2 emissions are the primary cause of climate change. And they have been getting worse over the course of the past few decades. Though it's true that we all grow our carbon footprint through daily activities such as driving a car, using electricity, and throwing garbage away, in-person events are significant contributors to CO2 emissions.
Companies spend millions of dollars each year sending their employees to conferences and meetings around the globe. Yet they do not consider the harmful effect it's having on the environment. For instance, a one thousand person conference over the course of 2 days can produce more C02 emissions than 200 hundred American households do in 1 year.
Environmental Benefits of Virtual Events
Fortunately, one of the benefits of virtual events is that businesses can significantly reduce their CO2 emissions.. Moreover, virtual events save money. If your organization is looking to make the transition from in-person events to virtual events in 2021, know that there are many green benefits of virtual events.
Cut Travel Emissions
Transportation plays a huge part in producing CO2 emissions. In fact, transport accounts for an astonishing 24% of the total CO2 emissions from energy. When you choose to host a virtual event or attend one, you will help to reduce C02 emissions.
To help you get a better idea of how you'll be helping the benefits of virtual events for the environment, below are some insightful statistics from Our World in Data that show the carbon footprint of each mode of travel per kilometer:
Domestic flight: 255 grams per kilometer
Medium car (petrol): 192 grams per kilometer
Short-haul flight (economy): 156 grams per kilometer
Long-haul flight (economy): 150 grams per kilometer
Bus: 105 grams per kilometer
Motorcycle: 103 grams per kilometer
Save Energy with a Virtual Event Venue
Another environmental benefit of having a virtual event in 2021 is that you'll be using less energy. Renting a conference room or other venue requires significant resources. A good example of this would be when the UN Global Compact Uniting Business Live 2020 Conference decided to host their event virtually rather than in person. According to MeetGreen, if the event would have been in-person, it would have taken an astonishing 2,601 kg of CO2e (carbon dioxide equivalent) to power the venue over the course of the three-day event. By hosting a virtual event, organizers and attendees did their part to protect the environment.
Shrink Waste From Printed Materials and Swag
In person events require a significant amount of print materials. For example, brochures, pamphlets, flyers, wristbands, and ID tags. Moreover, plastic items such as pens, popsockets, and cups negatively impact the environment. It takes a great deal of paper and plastic to produce the aforementioned items. Unfortunately, many of these products and materials end up being thrown in the trash versus being recycled.
One of the benefits of virtual events is that they eliminate the need for printed materials or branded swag. Rather, organizers can distribute information through emails, websites, or PDF files. This helps to shrink waste from printed materials. In fact, using digital materials saves an average of 36,000 pieces of paper for a 2,300 person event.
Reduce Carbon Footprint By Forgoing Hotel Stays
When traveling to an in-person event, you'll most likely need to book a hotel to stay in for a few days. Unfortunately, hotels aren't very eco-friendly due to the amount of waste they produce. Many hotel chains lack green initiatives to minimize their CO2 emissions. They commonly engage in excessive electricity usage, uncontrolled water waste, and fail to recycle. According to Modern Restaurant Management, hotels produce more than 638 million pounds of waste each year.
When you choose to host or attend a green virtual event, you eliminate extended hotel stays. As a result, the carbon footprint is reduced. Staying at home rather than at a hotel can help minimize your overall waste, allowing you to help better the environment.
Reduce Food Waste
Another one of the benefits of virtual events is the reduction of food and beverage product waste. According to PCMA, 63 million tons of food produced in the United States is wasted annually. Meetings and events generate nearly $21 billion of that waste. Even more worrisome, food waste contributes to almost 7% of the world's greenhouse gas emissions. This is equal to the emissions from 37 million cars per year, according to RTS. Hosting a green virtual event can help cut back on these emissions.
Experience the Environmental Benefits of Virtual Events
Going green and hosting your next event virtually, you'll be doing your part to improve the environment. Virtual events and meetings are here to stay. They can help your company reach a wider variety of people while also greatly reducing the size of your overall carbon footprint.
Are you thinking of going virtual for your company's next event? If so, contact our team to explore the benefits of virtual events and how our virtual event software can help. We've made virtual events easy and cost-effective for companies across the globe. Choose from a variety of engaging virtual event venues to help deliver a superior and memorable event experience.