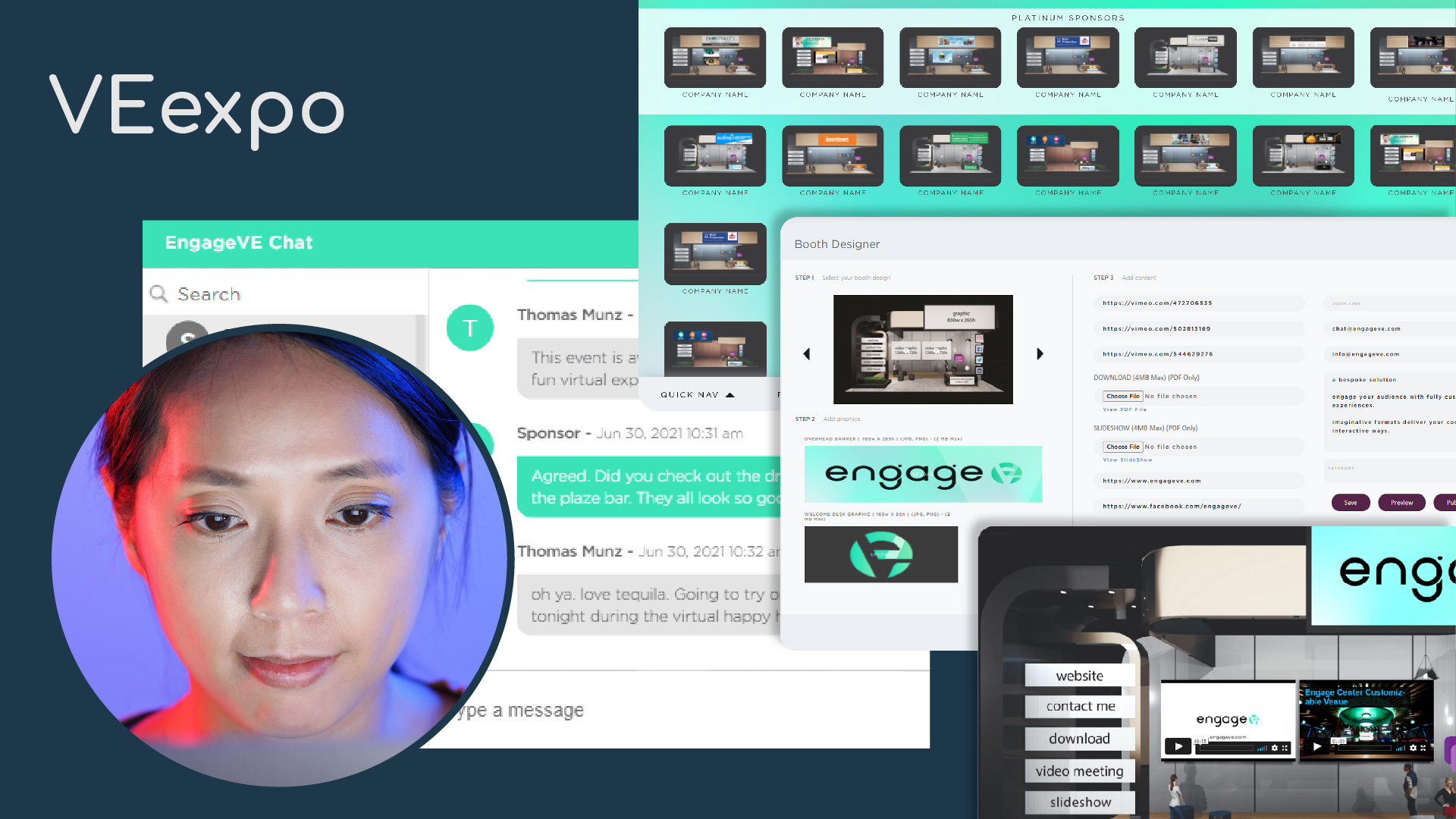 VEexpo Hall Booth Management System
Increase attendee engagement and dwell time with a virtual event booth. Create one virtual event booth or thousands with EngageVE's industry-leading VEexpo Hall Booth Management System.
Virtual events and virtual trade shows have increased in popularity during the global pandemic. For many companies, COVID-19 represented their first exposure to virtual events. According to research, more than half of companies ran their first vfair in 2020. And the experiences have been overwhelmingly positive, with over 90% of companies reporting that their events were a success and nearly 60% stating that their budgets for online experiences will continue to grow.
One of the most challenging aspects of a vfair is keeping attendees engaged. A virtual event booth is an effective way to increase dwell time and provide both exhibitors and attendees with a memorable experience.
What is a Virtual Event Booth?
A virtual event booth is a space where exhibitors can meet with attendees. Exhibitors share information about their brand and capture leads. The parties can communicate through a variety of means including audio, video, and chat. A virtual event booth is typically customized to fit a brand. This includes the brand's logo, information about their products and/or services, and digital assets. A virtual event booth provides a professional and engaging space for networking and building long-lasting connections.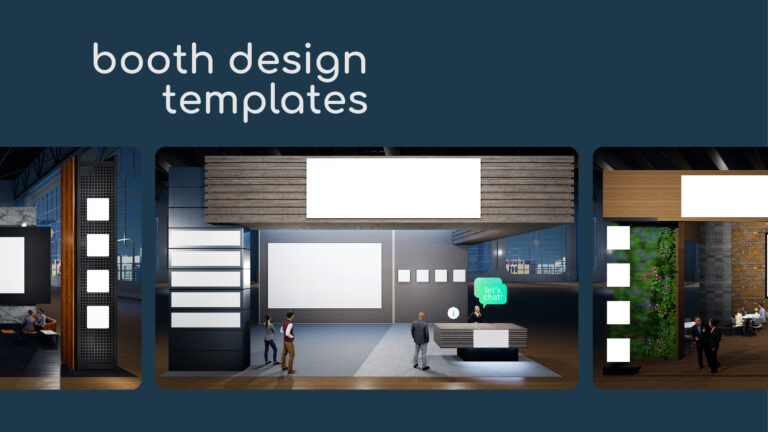 Tips for Creating an Engaging Virtual Event Booth Experience
The following are some useful tips for creating a virtual event or hybrid expo with an engaging booth experience:
Make the exhibitor virtual booth or virtual sponsor booth creation process simple and Intuitive.
Add Gamification to create an incentive for attendees to visit more booths and view more content.
Provide options to interact. Some attendees will want to chat immediately, others would prefer to give you their information and follow up after the event to get more information.
Connect attendees with your social media pages to encourage them to follow you for future updates and news.
Virtual Event Booth Gamification Ideas for Your Virtual Expo
There are several ways to add Gamification to your virtual experience, such as:
Virtual photo booths. Virtual photo booths allow attendees to create their own custom photo content while engaging with your brand.
Trivia. Hosting trivia at the end of a session gives attendees a reason to stick around until the end of your presentation.
Scavenger hunt. Scavenger hunts are a fun way to attract trade show attendees into a booth. You simply give participants a list of things hidden inside the booth and offer a prize such as a free product sample or discount for completing the tasks.
Earn while you Learn. With Engage's VEcoins, attendees will earn points by exploring and learning at your virtual event.  Those points can be used to get gift cards at your favorite store or restaurant.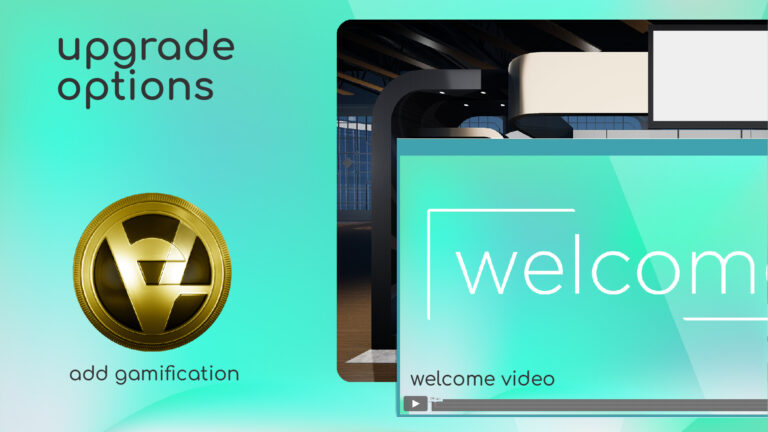 The EngageVE VEexpo Hall Booth Management System
Streamline your next trade show with EngageVE's system of modular 2.5D expo booths. Our latest tool expands the functionality of the EngageVE platform and allows you to choose from an array of tiered event booth designs. Mix and match templates to create a custom expo hall exactly how you want, from ten booths to ten thousand.
Choose your Booths
Pick each booth from our array of professionally designed templates. We offer a variety of material finishes to fit the look and feel of any brand. Select warm-toned designs with wood finishes and flowering planters, or keep it cool with a glossy black and silver metal palette.
Tiered Booth options
Building a large expo hall, we have Tiered booths to provide those that want more features, content, and options. Exhibitors can sign up for a silver, gold, or platinum level booth based on their specific needs.
Gamification
Increase your ROI by adding gamification.  Attendees will earn coins by visiting exhibit booths. When attendees view content or interact with exhibitors, they will earn coins that they can spend on gift cards and treats.  Ask about our VEcoins for more information.
Add Content
As part of our new line of content management solutions, the VEexpo Booths are fully editable on the client side. You can upload your own graphics directly to each booth, and control the links embedded at each content location and social media icon. Add, remove, and edit content on your schedule with our user-friendly dashboard and CMS.
Embed links to video conferencing software and create a private room for attendees to chat with your online sales team or subject matter experts. Setup a contact link with your email and information in the form of virtual business cards. Hook up a welcome video and provide easy-to-access PDFs with critical info to welcome your visitors with everything they need to know.
Track Engagement Stats
Every content link and booth is connected to our analytics system, easily accessible through our client dashboard. View stats on each piece of content and see how long attendees watched, read, or listened. Learn what content is successful and what might be missing the mark so you can build the best experience possible.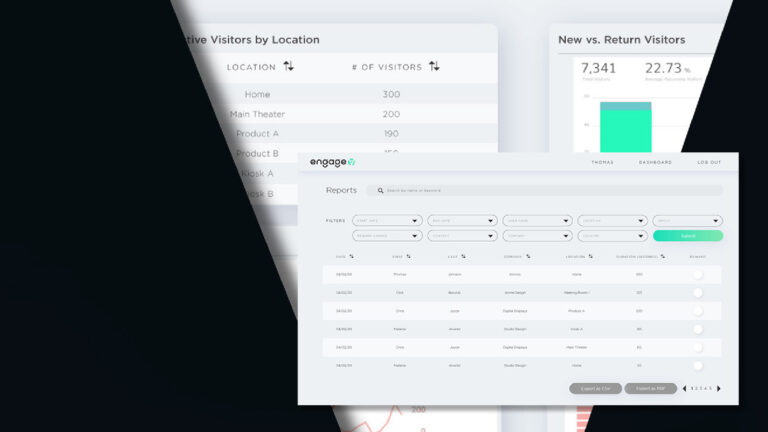 Contact EngageVE to Discuss Your Next Virtual or Hybrid Event
Virtual and hybrid events became increasingly popular during the pandemic. They proved so successful that they will continue long after. Attention to detail is what sets apart a great virtual or hybrid event from an unmemorable one. A custom virtual event booth allows you to showcase the very best of your brand while capturing and maintaining attendees' attention.
Take your virtual or hybrid event to the next level with EngageVE's all-in-one virtual event booth solution – the VEexpo Hall Booth Management System. Reach out to info@engageve.com to get the conversation started.