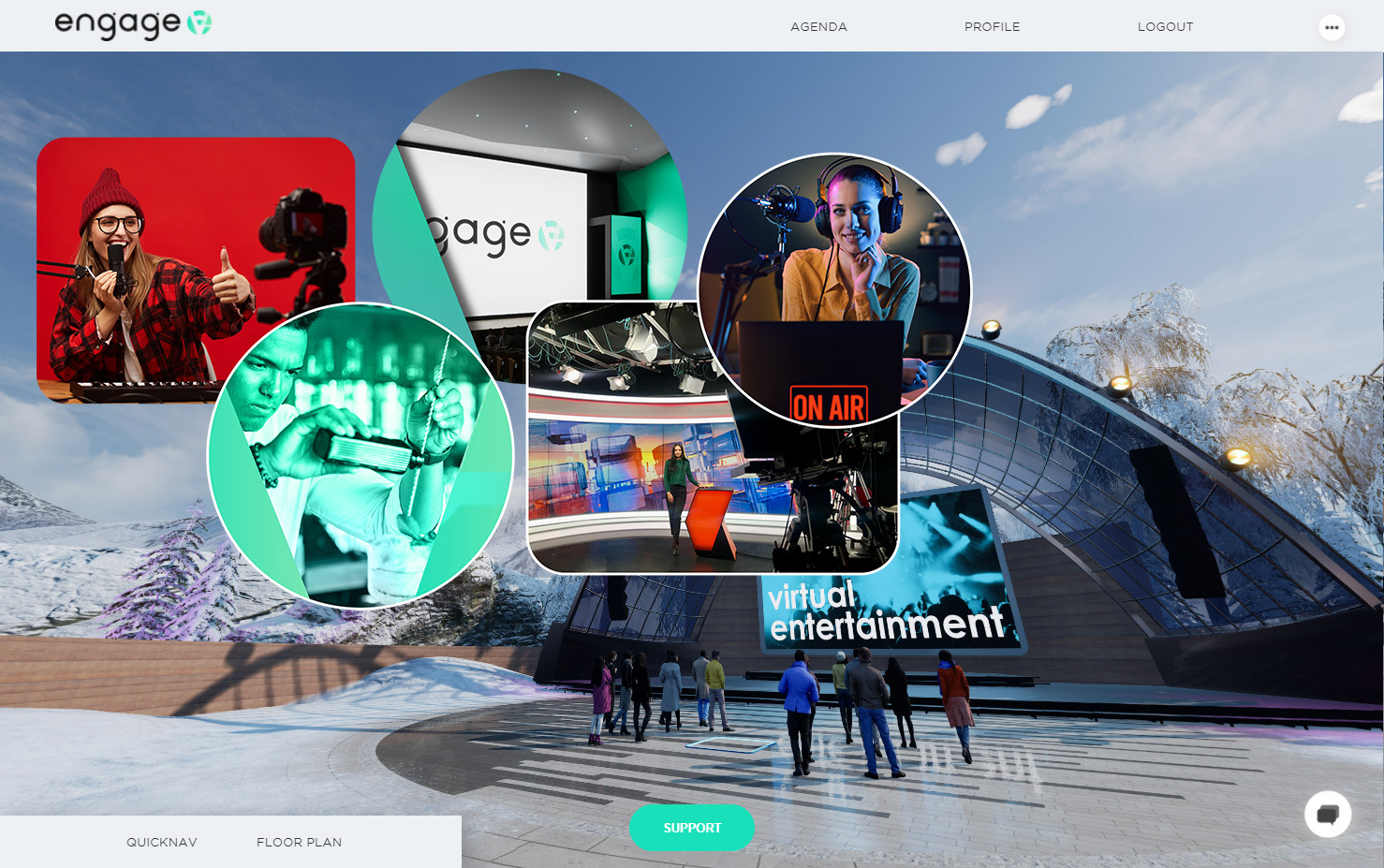 Virtual Work Party Holiday Ideas to Help Make Your Event a Huge Success
Looking for virtual work party holiday ideas? In this guide, we will explore some ways that EngageVE's industry-leading virtual platform can help you to stay connected with your team and customers this holiday season.
More companies than ever hosted virtual holiday parties in 2020. According to a survey conducted by the workplace consulting firm Challenger, Gray, & Christmas, nearly three-quarters of respondents reported that they planned on hosting a virtual holiday party during the 2020 holiday season. The overwhelming success of these events has led to many companies planning virtual holiday parties again this year.
Much like traditional in-person events, virtual event formats vary greatly. For instance, consider PayPal's 2020 virtual holiday party. PayPal has traditionally hosted more than 60 different holiday parties at its offices located around the world. But due to the pandemic, the company chose to host a single 29-hour virtual event for its 25,000 employees. The event featured performances from international drum and bass DJ Annie Mac, "TRON LED dancers," and "Rua the Illusionist," as well as cocktail and mocktail workshops and a drag show.
Other companies opted for more low-key events, such as a virtual cocktail party or a virtual venue that offers fun winter-themed gamification elements. In this article, we will highlight some important things to consider when planning your event. And we will look at several features of EngageVE's virtual platform that can help you to inject fun holiday elements into the virtual experience.
How to Host a Virtual Holiday Party
Before you can start thinking about fun virtual work party holiday ideas to incorporate into your event, spend some time considering the following.
Your Objectives
When hosting a virtual event it is important to think about what you want to get out of your event. A virtual holiday party can have many different objectives. You may want to celebrate the holidays with your remote team. Or network and connect with your customers. Or perhaps you are interested in hosting a virtual conference but due to the timing want to go with a winter or holiday-themed virtual event venue. Considering this upfront will make the planning process easier and help make your holiday party a huge success.
Scheduling
The planning process for a virtual event is essentially the same as it is for a traditional in-person event. You will need to pick a day and time that works for your attendees. Since a virtual event may potentially include attendees from around the world, choosing a time can require more careful consideration. Once the date and time is set, you will need to notify attendees. This can be as simple as sending emails to each attendee or automating the process through a virtual event platform.
The Venue
One of the most important considerations when hosting a virtual holiday party is the technology that you will use to host your event. There are many options that vary greatly in functionality and the features that they offer. The best option is to go with a platform that offers an all-in-one solution. This gives you the ability to rebrand the venue, create an agenda, add content, send notifications, collect and analyze event data, and add fun holiday elements such as winter-themed games. Moreover, a quality virtual event platform offers superior performance and live support to ensure that your attendees have a seamless virtual holiday experience.
The Agenda
Your event agenda will largely depend on your objectives and format. Most holiday work parties tend to be more low-key, allowing attendees to come and go as they please. But you may also want to add some structure to the event. For example, having guest speakers, live performances, or group activities. Decide what activities you want to incorporate into your event. Involve your team in the process. Find out what fun things and amenities they would like. If you have never planned a virtual holiday party and need some ideas, the following can help you to get started.
Virtual Work Party Holiday Ideas
Attendee engagement is one of the biggest challenges when hosting a virtual event. Even though holiday events tend to be shorter and less formal engagement remains a challenge. Some of the features that EngageVE offers to boost engagement at your virtual holiday party include the following.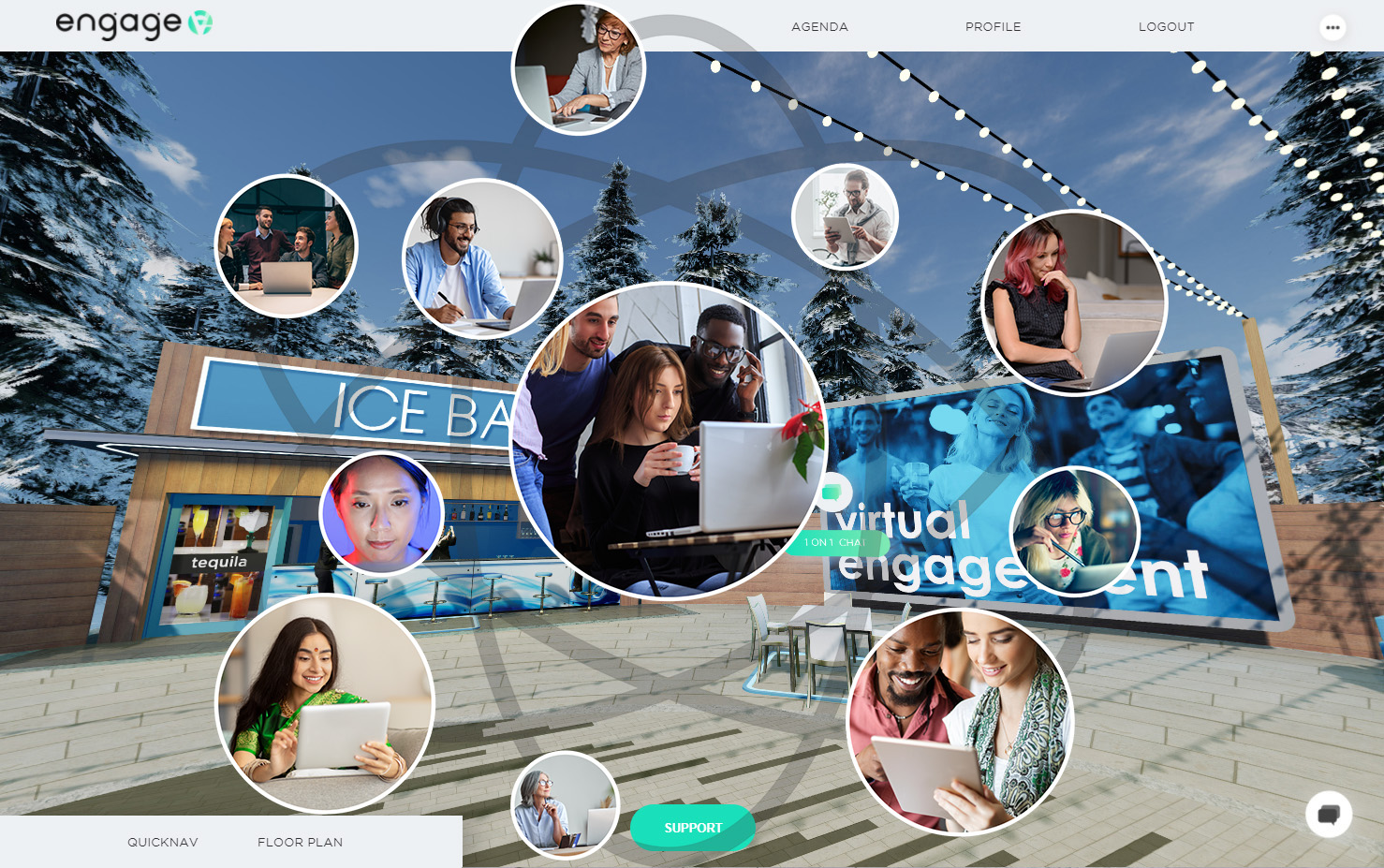 Virtual Happy Hours
Enjoying a drink with co-workers and/or clients at the annual holiday party is something that many people look forward to. Just because your guests are attending virtually does not mean they have to miss out. Arrange for attendees to receive drink ingredients at home. Let them head over to the bar where a mixologist demonstrates how to make the drink. They can then enjoy their cocktails in one of many networking areas. EngageVE's Winter Wonderland virtual event venue features an outdoor Ice Bar with mixologist and intimate networking areas.
Holiday Movies
It's not the holidays without classic holiday movies. Invite your attendees to a virtual holiday movie screening. With EngageVE you can upload and stream content throughout the event venue. Play one movie on the venue's large outdoor screen. Offer additional content options in one of many customizable viewing areas.
Virtual Escape Rooms
Escape rooms are a fun and engaging team-building activity. Participants work together to solve clues and problem solve. EngageVE offers a 360° virtual escape room that gives attendees the opportunity to participate in an immersive experience as part of the holiday fun.
Gifts and Prizes
There are many ways to exchange gifts and offer attendees prizes with tangible value. You could set up a secret Santa and arrange for guests to send gifts prior to the event. Or you could offer gift cards as prizes. EngageVE's innovative VEcoins solution allows event organizers to decide how attendees can earn coins. Coins can be exchanged at the end of the event for gift cards to some of your attendees' favorite stores.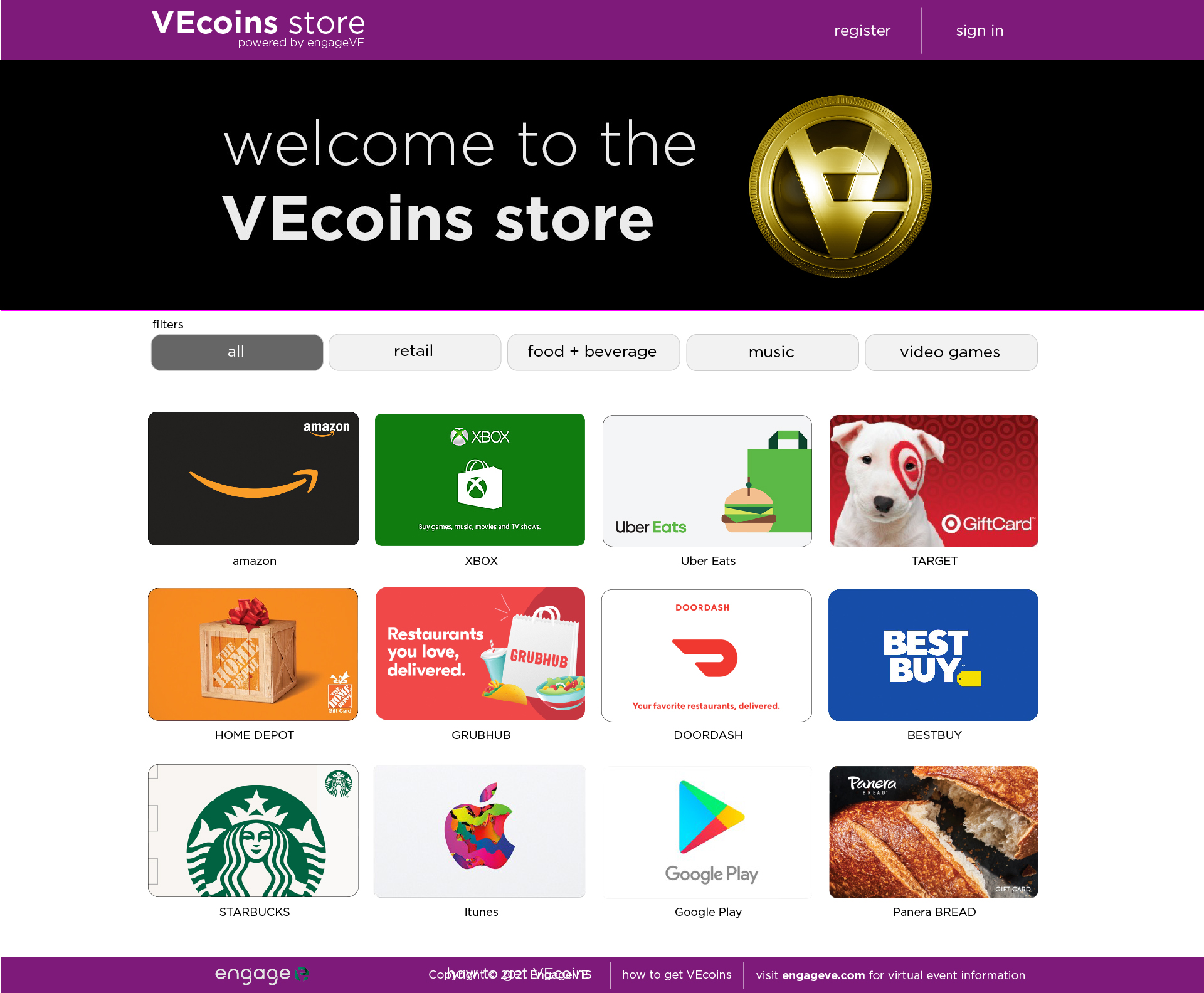 Live Entertainment
There are many ways to introduce live entertainment into a virtual event. You could feature musical performances like PayPal. Or you could have a comedy show or guest speakers. EngageVE makes it simple to incorporate live elements into your virtual event. Moreover, the all-in-one solution offers tools to plan, coordinate, and manage your presenters.
Host a Virtual Holiday Party with EngageVE
Our dedicated team has helped countless organizations located around the world to host memorable virtual and hybrid events. We appreciate how important your company's holiday party is and will work tirelessly to ensure that your event exceeds your expectations. Contact us at info@engageve.com to discuss your vision and plans for the perfect virtual holiday party.