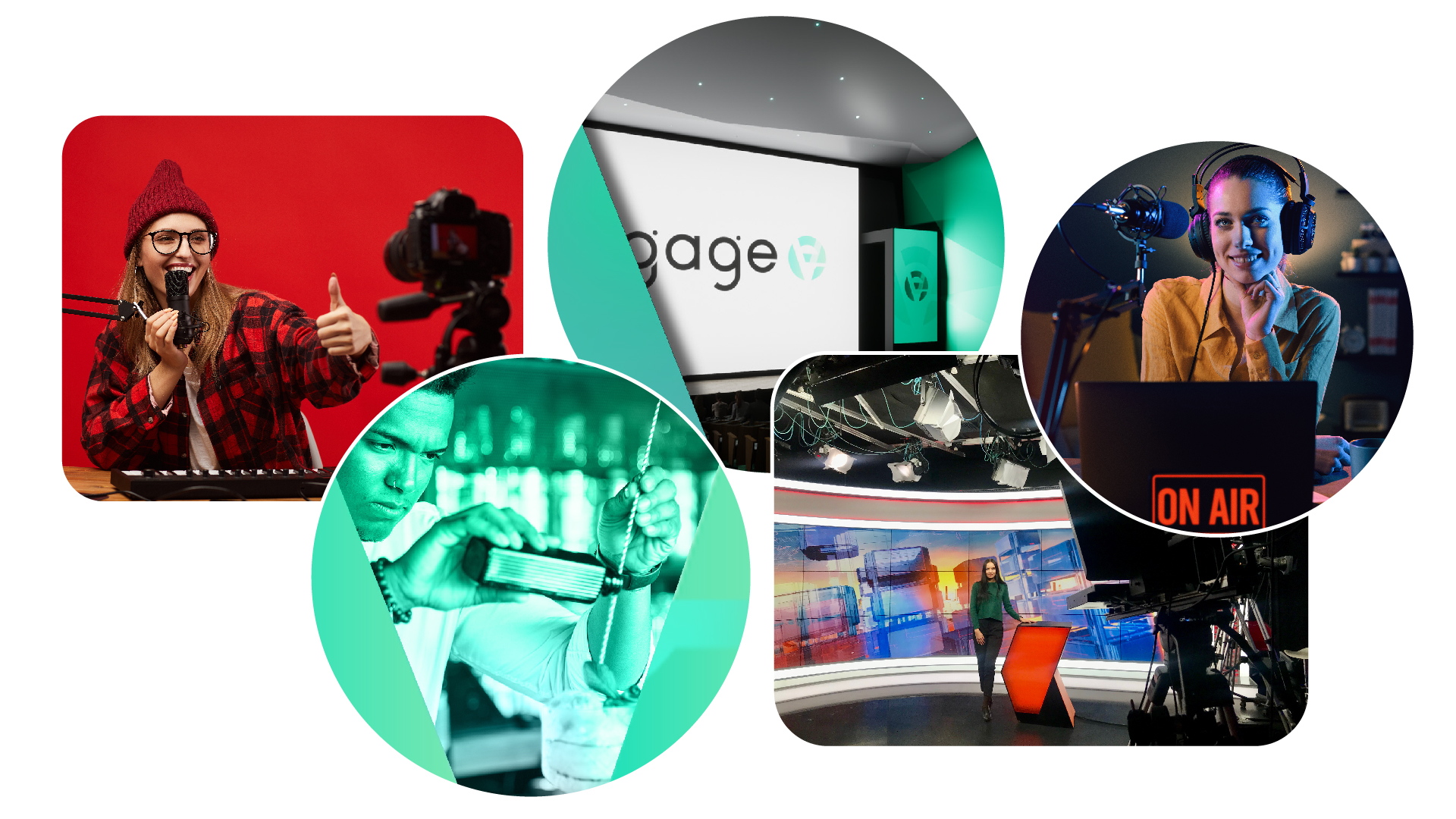 The Complete Guide to Hosting Virtual Events in 2022
Virtual events have become commonplace in nearly every industry. They offer brands many powerful benefits. From expanding their audiences to boosting revenue to collecting and analyzing data to gain actionable insights. While virtual events have been around for several decades, many event organizers have little experience hosting virtual events.
In this guide, we will cover some important things that planners need to know about hosting virtual events in 2022 and how they can make their next event a huge success.
What is a virtual event?
A virtual event is an online event that involves attendees interacting in a virtual environment rather than in a traditional in-person setting. Virtual events typically incorporate interactive elements to create an immersive experience that resembles an in-person event.
While the origins of virtual events can be traced back to 1993, it was not until the Great Recession that they became mainstream. Companies sought economically and environmentally-friendly ways to bring large audiences together. Following the COVID-19 outbreak, virtual events received renewed focus as event organizers quickly moved in-person events to virtual platforms. For many organizers and attendees, the pandemic represented their first experience with virtual events.
According to research, virtual and hybrid event experiences have been overwhelmingly positive. One study found that 91% of respondents reported that they were highly satisfied with online events. The increased exposure to virtual experiences combined with advancements in virtual event technology will contribute to the rapid growth of the virtual events market. According to Grand View Research, the global virtual events market will grow to more than $500 billion by 2028.
What are the types of virtual events?
There are many different types of virtual events and with the broad range of customization options available, no two are the same. That being said, most events fall into the following categories of types of virtual events:
Virtual conferences and summits. Virtual conferences and summits are events that are structured around an agenda. They typically include guest speakers, prerecorded content, networking sessions, and other interactive elements.
Virtual webinar. Virtual webinars are typically in the form of a presentation, Q&A, or group discussion. Their flexibility is one reason why they have become so popular in nearly every industry.
Virtual trade shows. Virtual trade shows are just like their in-person counterparts. They allow prospects to learn about products and services using interactive features.
Virtual job fairs. Virtual job fairs help employers to connect with candidates from all over the world. This greatly expands applicant pools beyond regional career fairs.
Virtual college fairs. Virtual college fairs allow prospective students to connect with recruiters from around the globe.
Online entertainment. Organizations also the virtual venue for entertainment. Use cases range from holiday parties to concerts to fitness sessions.
Virtual training/onboarding. Virtual training and onboarding events help employers to achieve scale in their HR processes.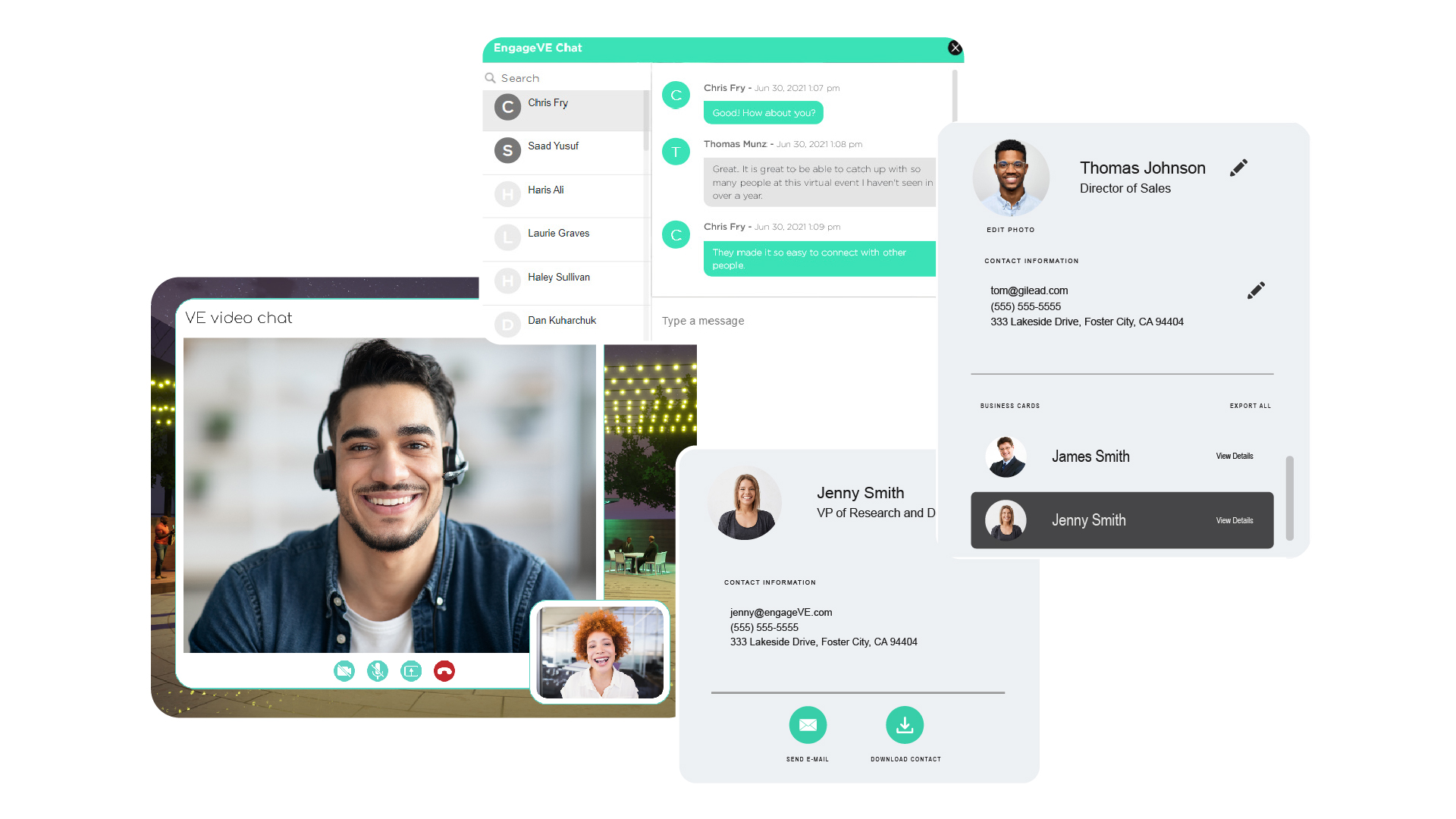 Why host a virtual event?
There are many reasons why companies choose to host virtual events. Many of the reasons are the same as they are for traditional in-person events. For example, generating new leads and boosting revenue. But in addition to these factors, brands choose virtual events for:
Flexibility. The COVID-19 pandemic recently highlighted the need for brands to have contingency plans. Virtual events offer much more flexibility around scheduling and attendance than traditional events.
Saving Money. Virtual events are significantly cheaper to host than in-person events. In one survey, 84% of respondents reported that virtual events cost them less than in-person events.
Saving Time. Virtual events take less time to plan and present fewer logistical challenges. Choosing the right virtual event management solution can streamline planning and management tasks.
Reaching Larger Audiences. Virtual events can significantly expand a brand's reach by opening up events to attendees from around the world.
Data. Virtual event platforms can help event planners to gather and analyze data. This provides invaluable insights that are not available with in-person events.
What are the pros and cons of virtual events?
We already discussed some of the pros of virtual events above. Virtual events provide operational flexibility while saving organizations time and money and allowing them to reach larger audiences. Moreover, traditional in-person event venues are generally not available 365 days per year. But the virtual venue is always accessible, giving event planners unparalleled flexibility and the ability to better accommodate attendee, sponsor, and guest speaker schedules.
It is worth noting that virtual events and in-person events are not mutually exclusive. Rather, many brands elect to offer attendees that cannot attend the in-person event a virtual event option. This is called a "hybrid event."
Despite their many advantages, the decision to host virtual events does present some challenges. First, it is more challenging to engage virtual audiences. They are not physically present and are more susceptible to distractions. The right virtual event management solution will offer features to boost virtual attendee engagement. For example, by offering gamification elements and virtual event prizes with real-world value.
Second, virtual events rely more heavily on content. Many attendees register for in-person events because they are excited about the venue or networking with their colleagues. Virtual event planners must find ways to provide compelling content that both encourages people to register for the event and keeps their interest during the event.
Third, virtual events present unique networking challenges. In-person events encourage face-to-face interactions. You can overcome these limitations by choosing a virtual event platform that offers powerful networking features such as private chats and 1-on-1 video chat sessions.
Fourth, whenever technology is involved there is the possibility of user error. Dropped sessions or difficulty navigating the virtual venue can result in a poor user experience. Choosing a reliable and proven virtual event platform and preparing attendees to use the platform can minimize issues involving user error.
What is the difference between virtual events vs hybrid events?
The differences between virtual and hybrid events are often the source of much confusion. In one sense they are the same in that they both provide attendees with a virtual experience. But a hybrid event also offers an in-person component. This means that guests can attend in-person as they would any traditional event while others have the option to attend virtually.
Hybrid events also present some logistical challenges that virtual events do not. With hybrid events, planners must coordinate two different agendas to provide a seamless event experience. For example, while in-person guests are attending a networking session, virtual attendees will need to engage in a different activity. The right virtual event management platform can help you to overcome these challenges.
How to organize a virtual event
The process to organize a virtual event is similar to that of a traditional event. And much like an in-person event, attention to detail is what separates a great event from a mediocre one. Start by viewing the virtual event from the perspective of an attendee. What sorts of things would you expect from the virtual event? What would help to make the event a memorable experience? Consider:
The types of content that you will provide and how you will deliver it.
Who the presenters and guest speakers are.
What activities you will provide. Remember that boosting engagement is one of the biggest challenges virtual event planners face. Gamification elements such as a virtual escape room and prizes can increase attendee participation.
How long each session will be.
Networking opportunities. Virtual events can be more challenging when it comes to networking. Unique networking opportunities such as speakeasies and bars make it easier for guests to mingle.
The technology that you will use to host virtual event. For instance, you can choose a virtual event platform that provides all the tools and features that you need to plan and manage your event.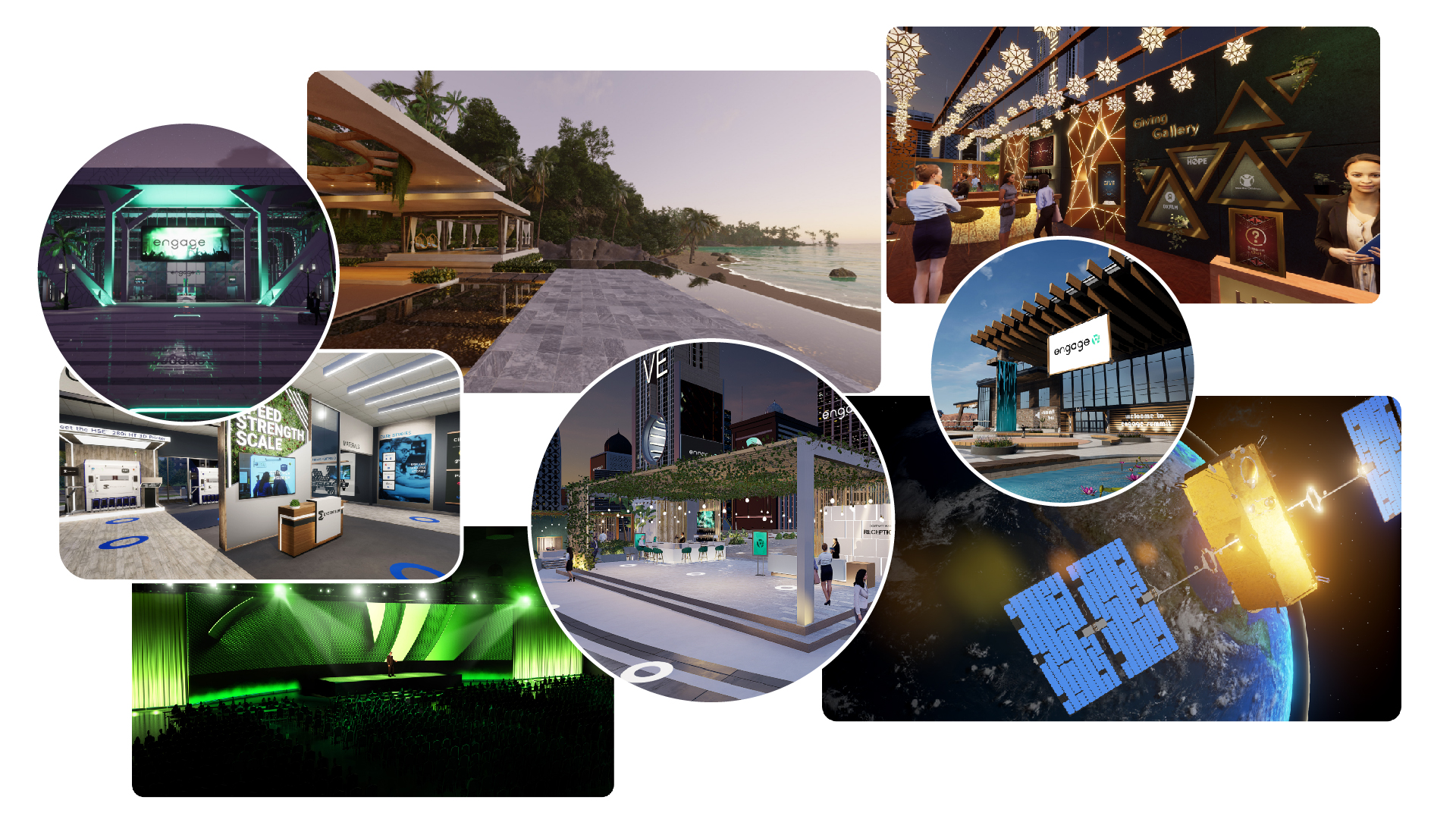 What are the best digital marketing strategies for virtual events?
Employing proven digital marketing strategies is vital to the success of your virtual or hybrid event. The following are some tips to promote your event.
Create an event landing page. Everyone that registers for your virtual event will go through your landing page. Make it as compelling as possible. Incorporate professional design elements. Highlight speakers, sponsors, and fun activities. Make it easy to sign up and pay for the event.
E-mail marketing. Use your existing e-mail list to promote your virtual event. Consider creating short preview videos of your event to motivate recipients to sign up. You may also want to create a drip campaign and send curated content as it gets closer to the event.
Social media. Social media is a powerful way to spread the word about your virtual event. Leverage proven virtual event social media marketing strategies to boost attendance at your event.
Sponsors and guest speakers. Ask sponsors and/or guest speakers to promote the virtual event to their audiences. People are more likely to register when an event is promoted by a source that they trust.
Press releases. Press releases are a good way to get your message out on a broad range of channels. You can submit your press release to one or more leading PR platforms for distribution.
How can attendees network during virtual events?
Networking can be significantly more challenging at a virtual event than at a traditional event. But by providing opportunities and leveraging the right networking tools, you can create a highly interactive environment for your guests. Some virtual event platform networking tools to look for include:
1-on-1 chat sessions
Group chat sessions organized by interests
1-on-1 virtual event booth chats with exhibitors
Virtual business card exchanges
Video chat sessions
Virtual meeting scheduling tools
Gamification elements such as speakeasies, bars, and virtual escape rooms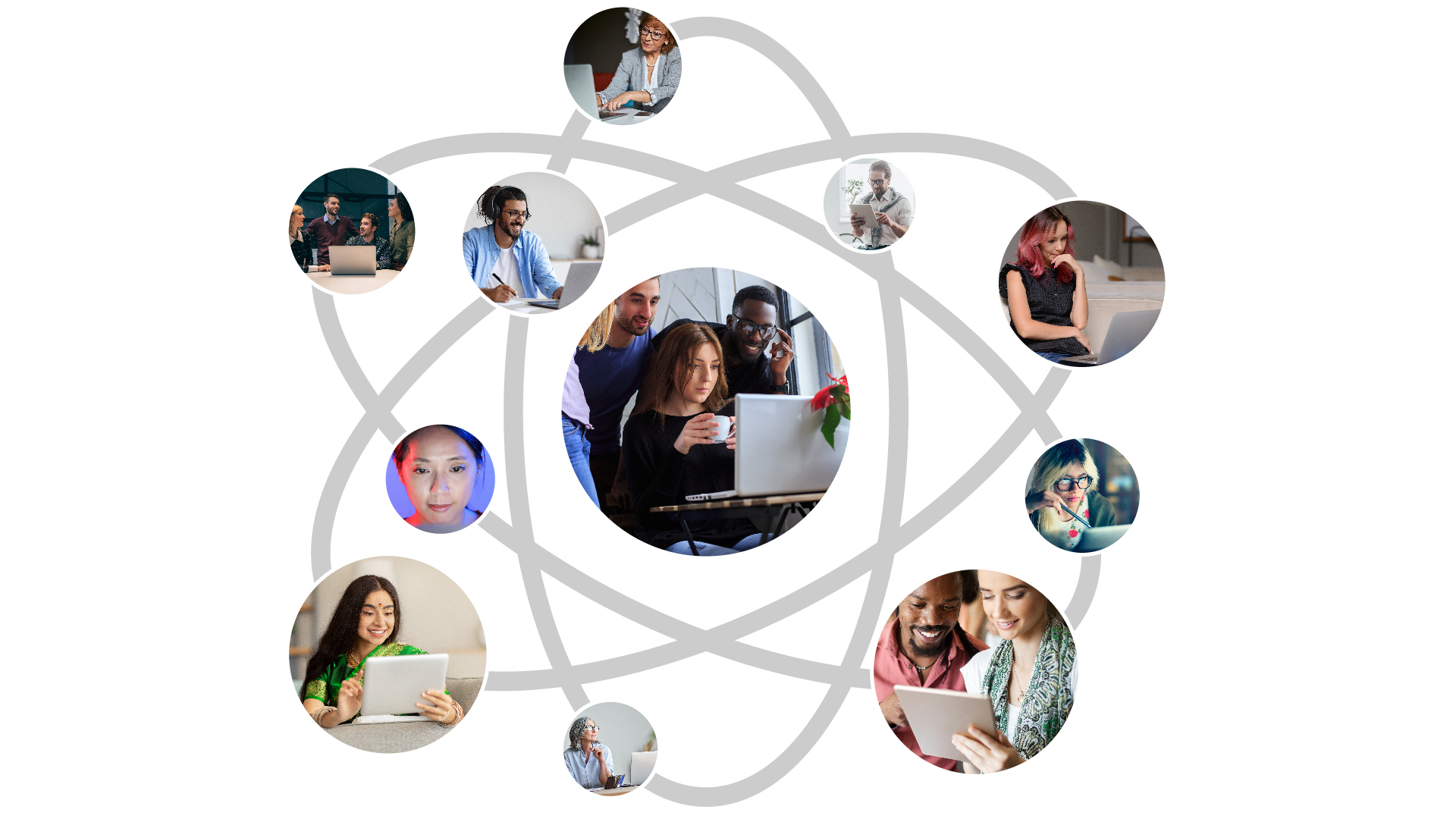 What do you look for in a virtual event platform?
There are many virtual and hybrid event platforms to choose from. But not all provide you with the features that you need to host an immersive and memorable event. Here are some of the key features of integrated event solutions to look for:
Customization. You want an integrated event solution that makes it easy to create an experience that fits your brand and audience. Some examples of customization features include a branded event website, adding brand graphics to the virtual venue, and customizable virtual event booths.
Virtual event booths. A virtual event booth is similar to a kiosk at a trade show. They allow face-to-face interactions through video chats and help you to convert more leads. Ensure that virtual event booths can be customized and make it easy to upload and share digital content like product information.
Include sponsors. Sponsorships improve the event experience and provide another means to monetize your virtual event. Look for a platform that makes it easy to incorporate sponsors through features such as personalization, banners, and sponsor messaging.
Live broadcasting. The platform should make it easy for speakers to participate through live broadcasting and support multi-speaker sessions.
Analytics and reporting. The ability to collect and analyze attendee and event data is a major advantage of virtual events. Look for a solution that provides a user-friendly dashboard that makes it easy to interpret data to derive actionable insights.
Support. Technical issues can erode the event experience. Make sure the vendor offers support throughout the virtual event production process, as well as live troubleshooting during the event.
Content management. Content plays a larger role in virtual events. A platform that provides a content management system will help to seamlessly deliver content while saving you time and money.
Automation. Integrated event solutions should offer automation features that make it easier to manage events and improve the attendee experience. For example, automatically sending notifications to attendees eliminates the need to manually contact each person.
Security. The platform should use the latest security features to ensure that data is safe. For instance, AES-256 encryption and Cross-Site Scripting.
How can I change my live event into a virtual event?
With the uncertainty surrounding the pandemic, you may need to cancel an in-person event at the last minute. Fortunately, you can make a seamless transition to a virtual event. But before you do, be sure to consider the following:
Whether your in-person event can be conducted virtually. There are some event types where in-person attendance may be required.
What virtual event platform you will use. Given the short notice, you will need a platform that can have your event up and running quickly. For example, a turnkey virtual event venue comes ready-made and allows you to easily customize the experience to fit your brand.
How you will notify attendees and provide them with instructions for attending the event virtually.
Whether attendees have all the materials that they need to attend virtually.
Whether sponsors and presenters are open and willing to participate in a virtual event. Ensure that the virtual event platform that you choose gives you the tools that you need to easily incorporate both sponsors and presenters.
How do you monetize a virtual event?
There are many ways to monetize virtual events. Some of the most popular monetization methods include:
Tiered access. Your virtual event can offer paid access to different tiers of content or features. For example, you may offer free access to limited areas of the event. A standard paid entry could provide attendees with access to most of the virtual experience. And VIP level may include additional features such as a live music performance or access to a VIP networking event.
Virtual event sponsorships. There are many opportunities to incorporate sponsors into your virtual experience. Some examples include banners, product brochures, directory listings, and networking activities. Be sure to provide your sponsors with key performance indicators so that they can easily measure their ROI.
Virtual exhibit halls. A virtual exhibit hall is a venue where exhibitors can show off and discuss their products with attendees. A virtual event platform should offer booth customization features and make it easy to upload content.
Digital libraries and repurposed content. Digital libraries make it easy for attendees to purchase on-demand content. Since virtual event content is online, you can easily repurpose the content for those that were unable to attend the event.
Evaluating the success of your virtual event
One of the biggest advantages of virtual events is the ability to evaluate performance through event data. Since your virtual event is online you can automatically collect event and attendee data. For example, the number of people attending, the content that they viewed, and their dwell time. There are many different ways to use virtual event data to evaluate performance.
According to a recent survey, 45% of respondents "use engagement (total registration and attendance numbers) to measure the success of their online experiences, which is really the first and most visible success metric[s] available to most brands." Another 24.9% of respondents look at "attendee satisfaction metrics like pre- and post-event NPS data to gauge their success."
Choosing a virtual event platform that provides you with a broad range of data features and capabilities will offer you flexibility when evaluating performance. Go with a virtual event platform that:
Gives you a 360° view of your attendees, including their interests and touchpoints. A feature such as a virtual event heat map makes it easy to track traffic to each zone to quickly assess which components of the event were the most popular and successful.
Offers a user-friendly dashboard that makes it easy to view data in real-time.
Provides you with insights into all aspects of your event, such as the most popular pieces of content and the most successful engagements.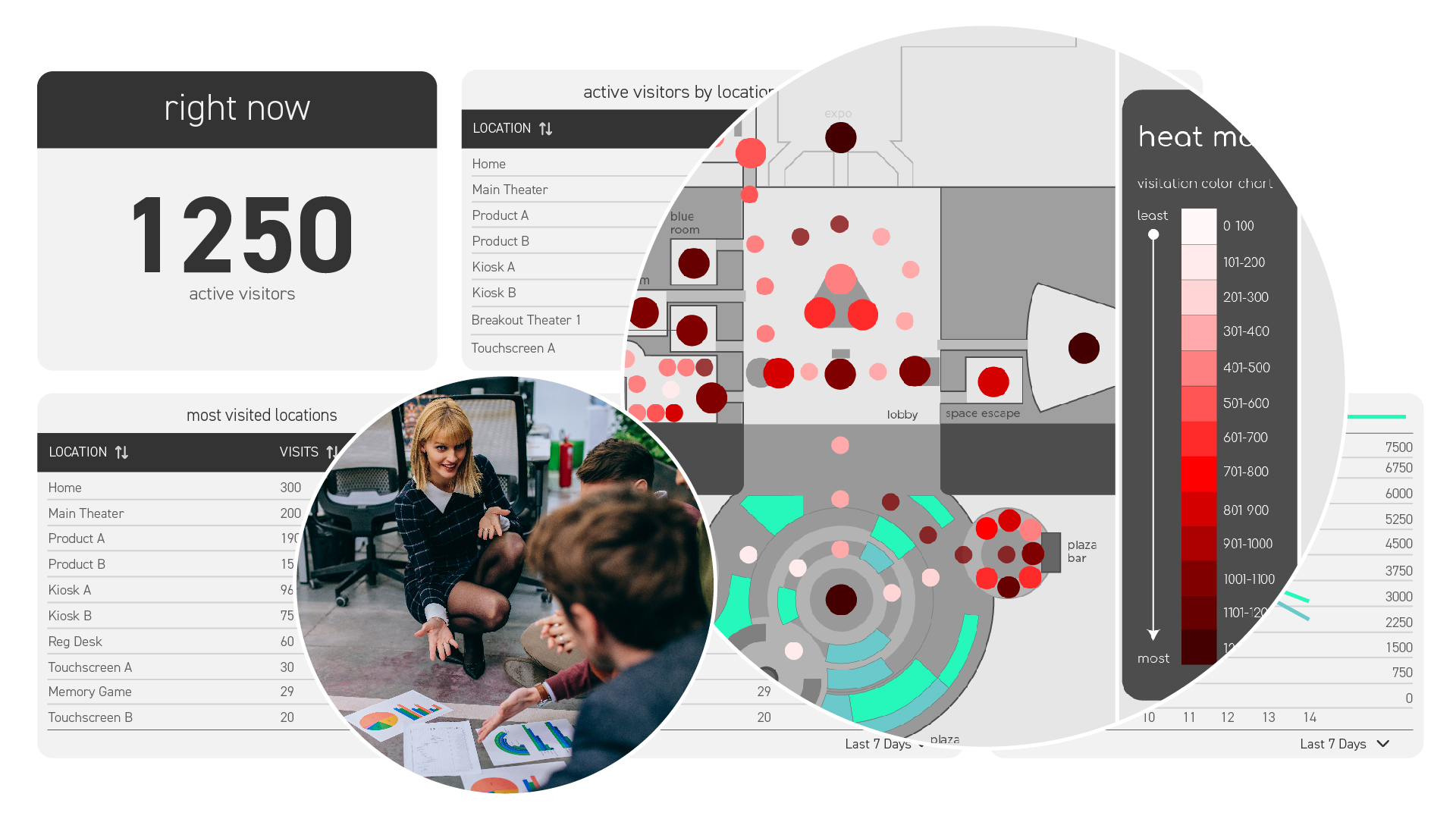 Be sure to go with a virtual event platform that can provide you with a broad range of data. This will allow you to choose relevant performance metrics to evaluate the success of your event. With these insights, you can increase the success of future virtual events as well as improve your brand's overall marketing strategies.
What are the Trends of Virtual Events in 2022?
As 2022 rolls around there are some important virtual event trends worth keeping an eye on.
More Interactive Virtual Experiences
Virtual event technology has come a long way in the nearly two years since the outbreak of the pandemic. Event organizers were forced to transition seemingly overnight to online events. Many people attended their first virtual event during the pandemic. As virtual and hybrid events have become commonplace, attendee expectations have grown exponentially.
Attendees will continue to expect more interactive virtual event elements in 2022. Virtual event planners will be tasked with providing immersive experiences that equal those of traditional in-person experiences. Some examples of interactive features include mixology classes, comedy shows, and 3D products.
Improved Security Features
Cybercrimes have been on the rise during the pandemic. According to the FBI, there has been a 300% increase since the start of the pandemic. Virtual event technology providers will be tasked with overcoming increasingly sophisticated security threats. Look for a virtual event platform that provides advanced security features such as encryption, Cross-Site Scripting, and strict process controls.
All-In-One Virtual Event Production and Management Solutions
Event planners are increasingly looking for efficient and scalable solutions. Virtual event platforms will need to provide all the tools that event planners need to create and customize events, manage attendee lists and content, and evaluate performance with real-time event data. These all-in-one virtual event solutions will help organizations overcome the inefficiencies and integration challenges of relying on many third-party solutions.
Increased Emphasis on Virtual Event Data
Virtual event technology has made it easy to gather detailed data from your virtual event. Data collection processes will continue to improve while an increased emphasis will be placed on providing user-friendly features that allow event organizers to gain actionable insights. Organizers can use these insights to improve future events and leverage what they learn about their customers to deliver more value and boost revenue.
More Personalization
Personalization is trending everywhere. From ads tailored to a user's interests to show recommendations on Netflix based on past viewing history. Brands are turning to personalization because consumers expect it and it produces results. And virtual events are no exception.
One example of personalization in virtual events is session tracks. Session tracks tailor content themes to each attendee's interests. This helps to boost engagement and ensure that each attendee derives the most value from the event.
Conclusion
Virtual and hybrid events will continue to increase in popularity as brands look for cost-effective, efficient, and scalable methods to connect with their audiences. The process of planning and hosting a virtual event may seem overwhelming. Choosing an all-in-one virtual event platform will provide you with all the tools and features that you need to create an immersive and memorable virtual experience.
To learn more about EngageVE's award-winning virtual and hybrid events platform, send a message to info@engageve.com to get the conversation started.