Gamify Your Virtual Event with VEcoins
VEcoins is the exciting new event app gamification solution from EngageVE. Use VEcoins on the EngageVE platform to gamify your virtual event to boost engagement and provide your attendees with a memorable experience.
One of the biggest challenges that event organizers struggle with is keeping attendees engaged. Gamification is a proven way to increase dwell time and provide attendees with an immersive and memorable experience. Yet coming up with gamification ideas and implementing them seamlessly into your virtual or hybrid event can prove challenging. Moreover, virtual event gamification elements have traditionally suffered from one significant disadvantage – an ability to bridge the gap between the physical and virtual worlds.
EngageVE's new event app gamification solution, VEcoins, helps event organizers to overcome this challenge. Using EngageVE's user-friendly virtual and hybrid events platform, organizers can offer attendees the opportunity to earn real-world prizes. VEcoins and the VEcoin store are simple to set up and add to any virtual or hybrid event. Attendees earn coins for performing any action that you choose. For example, by exploring content, watching videos, playing virtual event games, or chatting with exhibitors.
After the event, attendees can easily exchange the VEcoins that they earned for real-world gift cards to some of their favorite stores. Or they can choose to save up their VEcoins and spend them at future EngageVE virtual or hybrid events. Virtual events gamification has never been easier and the ROI for increasing dwell time and engagement is through the roof.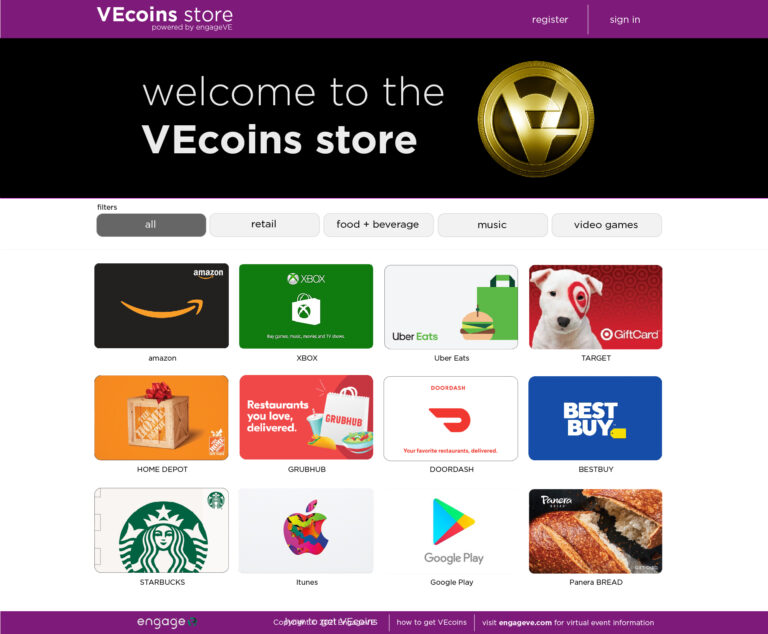 How Attendees Can Earn VEcoins
How attendees earn and use VEcoins is entirely up to the event organizer. This gives you complete control over the process while requiring no extra work on your part – the platform does it for you. With VEcoins, you can easily:
Determine the content or locations where attendees can earn VEcoins
Specify the value of each coin earned at each gamification location
Determine the total amount of VEcoins that an attendee can earn at each event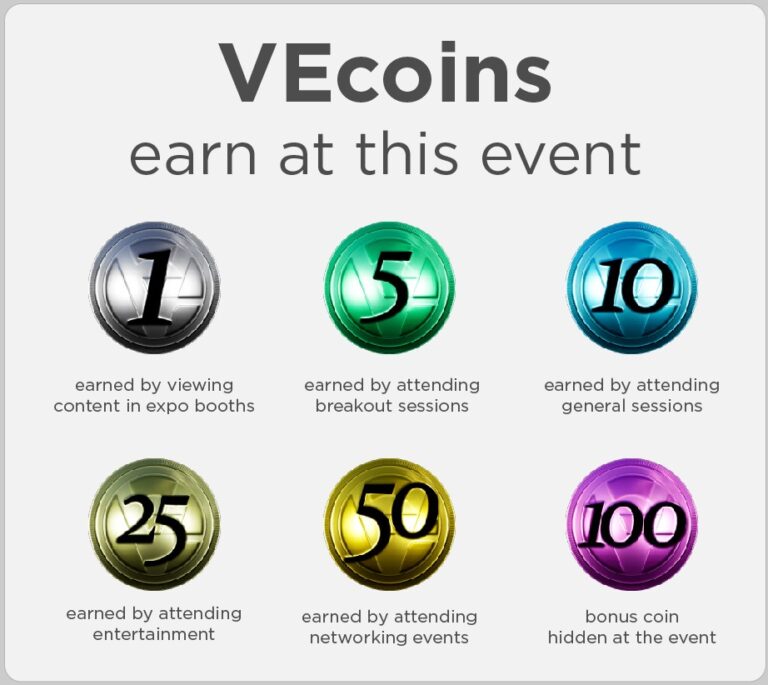 Benefits of VEcoins
VEcoins and the VEcoin store are cost-effective and scalable event app gamification solutions. They offer many benefits, including:
An end-to-end scalable event app gamification solution
A broad range of customization options
Easy setup and management
VEcoins can be saved and used by attendees at other EngageVE virtual events
The Growing Demand for Event App Gamification
The global virtual events market size is projected to reach $504.76 billion by 2028. The market's rapid growth is attributable to more and more businesses adopting virtual and hybrid event tools, increased exposure to virtual event experiences, and the continuous development of user-friendly technologies.
Some 50% of virtual event providers report that attendees interact the most with engagement elements such as virtual events gamification. Yet many event organizers struggle with introducing gamification elements into their virtual and hybrid events. Choosing a virtual events platform that offers user-friendly and customizable event app gamification features can help take your event to the next level.
Gamification involves adding game elements into a virtual or hybrid environment. Virtual events gamification is an effective tool to increase attendee engagement. Engagement is a major challenge for virtual event hosts. According to industry research, 31% of event planners reported that engagement was their biggest challenge, more than any other factor.
A lack of engagement can be caused by several factors. For instance, attendees not being physically together, distractions in the home environment, or email or social media notifications. Gamification actively engages attendees and the ability to earn tangible rewards with VEcoins gives them an incentive to participate.
Benefits of Virtual Events Gamification
Virtual event games and hybrid event games offer many benefits. They provoke the attendees' competitive spirits, induce a sense of belonging in a remote environment, and produce positive emotions. Event app gamification replaces tedious and uncomfortable ice breakers such as "Tell us your name, where you are from, and one thing that is interesting about yourself."
Virtual events gamification, gamification in meetings, and conference gamification offer the following benefits:
Enhanced networking and teambuilding opportunities
Relaxed and fun environment
Sponsor incentives
Improved engagement
VEcoins gives event organizers the added benefits of a fully customizable and scalable event app gamification solution that increases engagement by offering real-world prizes.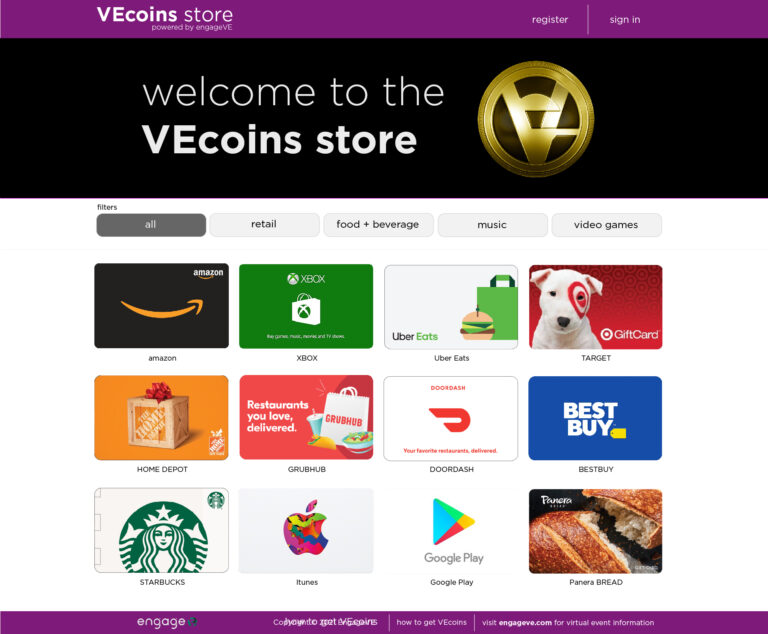 How to Gamify Your Virtual Event
Virtual event gamification works best when you clearly define your goals and implement a strategy. For instance, suppose you are hosting a hybrid event. You are concerned that participants attending the event virtually will feel left out. To increase engagement, you could offer gamification events during in-person networking sessions.
The key is to ensure that attendees are aware of the opportunities, understand the rules, and know what the rewards are. Event organizers can create content that educates attendees on these points leading up to the event. You may also wish to connect with sponsors to see if they would be interested in contributing some prizes.
Virtual Event Gamification Ideas
There are many ways to gamify your virtual or hybrid event. The following are some virtual event gamification ideas that event organizers commonly use:
Contests. Attendees enjoy competition and the chance to win both bragging rights and rewards. You can create one or many contests. For example, you could reward the attendee that spends the most time interacting with content.
Rewards for specific actions. Instead of a contest, you can reward attendees for specific actions. For example, for each social media post that uses the event hashtag. This has the added benefit of marketing your virtual event on social media.
Scavenger hunts. You could create a list of actions that attendees must complete throughout the virtual event. If all actions are completed, the attendee receives a prize.
Exhibitor interactions. Event attendees can receive rewards for interacting with exhibitors. For example, attendees could use a digital passport to collect stamps from exhibitors. They can then exchange the passport for points.
There are a potentially unlimited number of ways to gamify your virtual event. EngageVE's innovative new virtual events gamification solution VEcoins offers event organizers a whole new level of customization and possibilities.
EngageVE provides an industry-leading virtual events and hybrid events platform that makes it easy for organizations of all sizes to create immersive and memorable events. VEcoins are a simple and exciting way to gamify your virtual event. To learn more about VEcoins and how EngageVE can help you with your next virtual or hybrid, send an email to info@engageve.com to get the conversation started.